ELITE CLEAR BRA IN HUNTINGTON BEACH, CA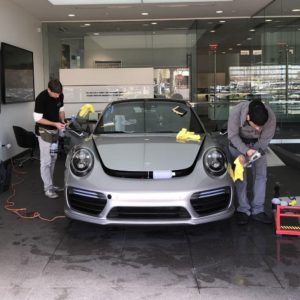 Elite Clear Bra provides our clients with the highest quality of paint protection film, Clear Bra, as well as installation. We are the exclusive clear bra installers for many of Southern California's most elite dealerships.
Unlike many of our competitors, who train others to do their installations, as the owners of Elite Clear Bra, we personally install each clear bra. This assures our clients that they are getting a highly-experienced technician for their vehicles clear bra installation.
We use the most advanced film and vehicle patterns currently available on the market. We also offer custom installations where kits are unavailable. Our client's complete satisfaction is the driving force behind our dedication to being Southern California's premier clear bra specialists.
XPEL Window Tint Services near Newport Beach
We offer top-flight services other than our clear bra paint protection. We also have state of the art window tint services as well! Using XPEL PRIME XR Plus automotive window film, we can give you up to 98% infrared heat rejection.
Paint Correction in Orange County
At Elite Clear Bra we not only offer great clear bra paint protection and window tinting services, but we also offer paint correction services. If you're located in Huntington Beach, CA, Newport Beach, Orange County or the surrounding areas – get in touch with us today.
Huntington Beach Clear Bra Services
Elite Clear Bra is located in Huntington Beach, CA, also proudly serving Orange County, Newport Beach, and the surrounding areas. Come in for your clear bra protection, window tint, and paint correction today! We look forward to seeing you!
ELITE CLEAR BRA SPECIALITIES
Clear Bra Paint Protection